Event Hosting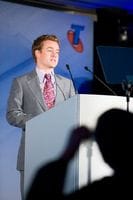 Grant Denyer is one of Australia's brightest TV talents and could be the successful touch to your event.
His bright wide smile and crafty ability to entertain, is a trademark that has shot him to the top of TV's 'most watchable' list. Young, energetic and brimming with street credibility, the Seven presenter's youthful appeal makes him hot property for young or lively audiences.
Grant is a bankable regular host of corporate events, press conferences, launches and personal appearances. His fresh, comfortable and professional delivery makes Grant's events an easy listening fun affair, not a function to fall asleep at.
To find out if Grant can assist at your next event contact Cheryl Denyer on 0413 388 836.