Grant Denyer History
Grant Denyer is a man of many talentsrace car driver, Guinness World Record holder, Dancing with the Stars Winner, Journalist and prime time National Television Host just to name a few
Grant and his young family reside on a small farm on the outskirts of the country town of Bathurst in NSW. He married Television Producer, Chezzi Denyer on Hamilton Island in 2010 and the couple have one child, Sailor Denyer (4 years old), and are expecting their second child later this year.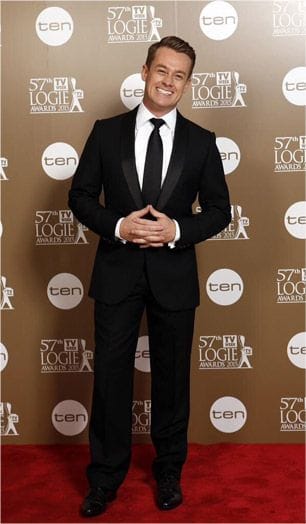 Host Network 10, Great Australian Spelling Bee
Host Network 10, Family Feud, Sunday & weeknights at 6pm
Host Channel 7, Slideshow
Host Channel 7, Million Dollar Minute
Sunrise Weatherman Channel 7
Host Channel 7, 'It Takes Two', 2006, 2007 & 2008
Host Channel 7, 'Australia's Got Talent', 2007, 2008, 2009, 2010 & 2011
Sunrise special reports with 'Dare Denyer'
Host Channel 7, 'Guinness World Records' 17 episode prime time series
Olympic Commentator Channel 7
Dancing with the Stars Winner Channel 7
Host - Channel 7, 'Surprise Wedding'
Host Channel 7, 'Greatest All-Time Aussie BLOOPERS'
Host Channel 7, 'Guiness World Records - 50 year special' (filmed in London)
Host Channel 7, 'Kellogg's Nutri-Grain Ironman Series' - 2 years
Host Channel 7, 'World's Wildest Weather'
Host - Network 10, Sydney to Hobart Yacht Race coverage, 2002
Host Network 10, 'Trackside', motorsport racing series
Host Network 10, 'V8X', motorsport lifestyle series
Pit lane commentator Channel 7 & Network 10, V8 Supercar Series
News Journalist 9 years Channel 7, Network 10, Prime
Grant's quick wit, self-depreciating humour and boy next door broad market appeal positions him as one of television's headline acts of the future.
Voted 'the most dateable male' by New Woman magazine
Voted Top 5 in 'Australia's most watchable TV personalities'
Voted 'sexiest presenter on TV' by Melbourne Metro Magazine poll
Motor racing multiple winner and V8 Supercar 'Rookie of the Year'
Host of GP TV'S coverage of the Melbourne F1 Grand Prix.