My Dance Diary
Week Ten - "The Final "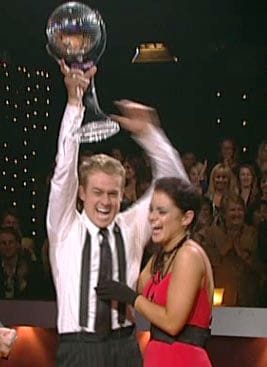 Now folks I just want to make it clear I did not cry not at all during the finale ... it's just that we were throwing water around and some got in my eyes! Seriously if you had told me four months ago that winning a dancing competition might make you a bit weak and weepy I would have laughed in your face. But I think it was just sweet relief and justice for everyone I know.
Your life is on hold and you feel, that you let everyone down when you don't get a chance to see them and be there when they need you. So I really wanted to win to prove to them that it was worth it.
Our freestyle dance was a tricky routine. I rolled over to the side of Amanda and fell over, but capping off the night with a 40 and perfect 10 from Helen for the pasa doble was really cool. Although I think Helen may hold me to coming over now! As for Kostya, well he's only been beaten once in his boxing career, so Amanda and I took great pleasure in providing the hit that he didn't see coming a second time around.
Amanda's actually now off to the world championships. I'm sure she's well on her way to success, she really is hot property.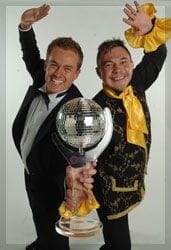 I really wanted to thank my girlfriend Belinda in my speech but Daryl wrapped up the segment so I didn't get a chance. But Belinda certainly knows how appreciative I am because I thanked her every night of the show. And she's also been really good to weather the rumours I was having a relationship with Amanda which were ridiculous. However I don't think Belinda's going to see much of an improvement in my work schedule with Sunrise. We've got a couple of big trips - a charity hot air balloon trip across the Simpson Desert, an outback car rally for charity and then we're off to Alaska and Europe. But for now at least I'm going to be a happy boy when I do get home because I'm not slogging my guts out for six hours a day training.
I'm looking forward to play with my dog Fergus who I haven't seen much of at all, and I've really neglected the house - the lawns are above the roof at the moment so there's a lot of chores to be done!
Well the show's been a real surprise and brought out things I didn't know I had in me. But anyone who thinks dancing is for girls is kidding themselves!